Medicare Advantage Plans
Medicare is an 80/20 health care system, with the beneficiary responsible for the 20%. Majority of beneficiaries purchase more health insurance to cover the 20% Medicare does not pay. Since most people are on fixed incomes, beneficiaries will contain that potential out-of-pocket cost through a secondary plan. Medicare Part C, also Known as Medicare Advantage is one of those options, and Medigap is the other.
Pennsylvania Medicare
41% of Pennsylvanian Medicare beneficiaries are currently enrolled in a Medicare Advantage (Medicare Part C) Plan.
New Jersey Medicare
29% of New Jersey Medicare beneficiaries are currently enrolled in a Medicare Advantage (Medicare Part C) Plan.
Medicare Advantage (MA) plans are Medicare health plans offered by a private company that assumes the responsibilities of providing all your Part A and Part B Medicare benefits. Therefore, you may have your Medicare Coverage, including Medicare part d through well-known providers like Cigna, UnitedHealthCare (UHC), Allwell or Humana.
What services are covered with Medicare Advantage Plans?
While all Medicare Advantage plans must cover the same services as Original Medicare (Parts A and B), different MA plans will have different networks, copay's, and drug coverage. Carriers may also provide ancillary benefits normally not offered by Original Medicare. This can include Dental, Vision, Gym Memberships, and OTC credits. As far as costs are concerned, MA plans have been designed on a "pay-as-you-go" system with premiums that can start off as Zero Plans ($0/month). This is why Medicare Advantage plans are sometimes referred to as a free plan.
Individuals have the ability to select a Medicare Advantage plan based on three criteria. First of all, to qualify for an MA plan you must have both Medicare Part A (hospital insurance) and Part B (medical insurance). Another requirement is you must live in the service area of the plan. For instance, if you live in Philadelphia you would not be eligible for the same plan as someone living in New York. Plans are usually specific to each county. At last, MA plans are not accessible for those with end-stage renal disease (ESRD).
Plan Options:
HMO insurance plans have closed provider networks.
PPO has the ability to use a closed network provider as well as go to any other provider.
PFFS has the ability to see any provider who is willing to accept the plan terms.
Medicare Advantage plan are required to include everything covered by original Medicare (Parts A & B). Some of these plans can also include prescription drug coverage and additional benefits that are not included in Original Medicare.
Medicare Advantage plans can provide additional coverage for beneficiaries that are on both Medicare and Medicaid (CHC for Pennsylvania and NJ Family Care for New Jersey), or have chronic conditions. There are very few health questions to answer so almost everyone will get approved.
Enroll in Medicare Advantage Plans
If you're looking to enroll into a Medicare Advantage plan you will need to have an enrollment period.
Each year during the Annual enrollment period (AEP) October 15 – December 7, you can enroll or make changes to these plans.
You can use the open enrollment period (OEP) January 1 – March 31, to make a one time change to an existing MA plan.
Special enrollment periods can be used throughout the year, to those who are eligible.
Growth in Medicare Advantage

Medicare Advantage Plans, have many plans with as little as $0 monthly premium while also including extra benefits. As a result, Medicare Advantage Plans have grown in popularity, nearly doubling over the past decade.
Nationwide, Medicare Advantage beneficiaries continue to expand each month. In January 2019 insurers added 1.4 million members into MA coverage. Pennsylvania is on the rise with over 40% of it's medicare eligible beneficiaries choosing to opt for a Medicare Advantage plan.
Those insured through Medicare Part C can enjoy flexibility with a plethora of plans to choose from including Health maintenance organization (HMO), Preferred Provider Organization (PPO), Private fee- for service (PFF), Health Maintenance Organization-Point of Service (HMOPOS), Special Needs Plans (SNPs), and Medicare Savings Accounts (MSA). Many premiums paid by Medicare Advantage members have diminished since 2015. With half paying no premiums at all. Beneficiaries will often refer to these no cast plans as ZeroPlans.
Medicare Advantage programs have grown in popularity, by offering nothing less than what Original Medicare offers, supplemental benefits and pay as you go cost sharing. It is projected that Part C will rise to about 47% nationwide by 2029 and that may be conservative when factoring in the anticipated rise of MSA plan enrollments over the next decade. The surge in Medicare Advantage is confirmation to utilize a choice readily available including extra benefits at no additional cost. More importantly these plans are simple and come in a wide variety to meet your needs. For more comprehensive information on Medicare advantage plans fill out the form with your information below.
Medicare Advantage Additional Benefits
Is Medicare Advantage Right for You?
When deciding on the best Medicare plan for you, it's important to consider your current lifestyle and health. Are you a frequent traveler? Do you have a Chronic Condition? These variables can make all the difference when deciding which plan will fit your needs best. Maybe cost savings is the most important thing to you, then you may want a pay as you go type plan with low or zero monthly premium. Use the info graphic below to compare both Medicare Supplements and Medicare Advantage. For a one-on-one overview of these plans with a Medicare Professional, Fill out the form with your information below.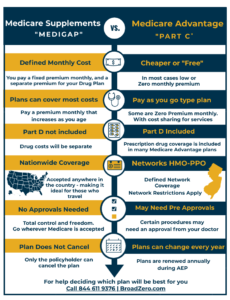 Let's Compare Medicare Advantage Plans
We do not offer every plan available in your area. Any information we provide is limited to those plans we do offer in your area. Please contact Medicare.gov or 1-800-MEDICARE to get information on all of your options.

Broadzero.com is operated by BroadZero Inc, a licensed independent health insurance agency certified to sell Medicare and Life Insurance products. Broadzero is not endorsed by the Centers for Medicare and Medicaid Services (CMS), the Department of Health and Human Services (DHHS) or any other government agency. Please visit our privacy policy to learn more about how we protect your information.