Choosing Between Medicare Supplement and Medicare Advantage
There is no one-size-fits-all plan when it comes to choosing the best Medicare plan. Individuals may benefit from different plans depending on their lifestyle, health conditions and income level. In this article we will be comparing Medicare Supplements and Medicare Advantage and take a closer look at:
Medicare Supplements Eligibility
For a Medicare Supplement, if you are outside of your initial enrollment period (IEP) you will need to qualify medically by answering health questions. Even if you are denied by one carrier, you may be approved by another. Each carrier has different qualifying questions.
You must have Medicare Part B. If you're not sure if you have Part B, check your Medicare card for your Part B eligibility date.
If you are on a supplement, you can change your plan anytime of the year, as long as you qualify by answering the carriers health questions. The Annual Enrollment Period (AEP) does not apply to those on Supplements.
Medicare Advantage Eligibility
There are minimal health qualifying questions to enroll into a Medicare Advantage Plan.
Like Medicare supplements, you Must have Medicare Part B.
The Annual Enrollment Period (AEP) will allow you to switch plans each year between October 15 – December 7. You may be forced to make plan changes during AEP if the plan you're enrolled in changes or decides to leave your service area.
You can not switch your Medicare Advantage plan during the year, Special Enrollment Periods and certain exceptions apply. Check out our blog post on How to Switch Medicare Plans During Open Enrollment to see if you're eligible to make changes to your MA outside of the AEP.
Medicare Supplements Underwriting
When you first go on Medicare Part B you can get a supplement WITHOUT answering health questions. ONLY THIS ONE TIME!
Each carrier has different health questions.
Prices are different for each zip code.
Age, sex, tobacco use, height and weight can all play a part in costs.
Household discounts can be applied in certain situations.
Selective process by carriers.
Medicare Advantage (Part C) Underwriting
There is limited underwriting.
Low barrier to entry.
No height or weight questions to answer.
Only qualifying question is: Do you have End Stage Renal Disease?
*Update Medicare Advantage plans will begin accepting those with End Stage Renal Disease beginning in 2021.
Medicare Supplements Costs
Costs for the same coverage will vary from carrier to carrier.
The cheapest carrier does not always mean the best!
Rates will increase as you age.
Higher costs can be applied to different weight and risk classes of individuals.
You can be turned down for coverage if you don't medically qualify.
One of our Medicare professionals can explain the differences between
carriers, expected rate increases, carriers to avoid and more.
Medicare Advantage (Part C) Costs
Think of it as a "Pay as you go" option.
Many are Zero Premium Plans, so there are No Costs Monthly – We refer to these as ZeroPlans.
Costs can change annually, as can benefits, provider participation and copays.
Most have a maximum out of pocket limit of $6,700.00 annually.
Medicare Supplements for Travelers
Wherever Medicare is accepted a supplement will be accepted nationwide
without restrictions.
If you are planning on traveling often, a Medicare supplement will most likely be ideal for you.
Medicare Advantage (Part C) for Travelers
Ma plans have defined networks of coverage HMO, PPO, meaning you are bound to your network.
There will be increased medical costs if you leave your network area of service.
Medicare Supplements Carriers
Most of the major carriers offer Supplements including Aetna, Cigna, Humana, Transamerica etc.
There are also some very small organizations offering supplemental coverage.
Carrier selection is very important to avoid large annual increases.
It is best to speak with a professional who is contracted with many carriers and can
give you history on prices in your particular zip code. Schedule a benefits review to go over your options.
Medicare Advantage Carriers
Most of the major carriers will offer Medicare Advantage including Cigna, Humana, UnitedHealthCare, Aetna etc.
Some are Regional carriers so they will only offer Medicare Advantage Plans to a certain area. Regional carrier in Pennsylvania and New Jersey include Clover, Allwell, Gateway and Health Partners.
Each carrier will be a little different from the next in regards to copayments, coinsurances and out of pocket limits. Some new carriers are coming up with very competitive and robust plans.
Side By Side Comparison
Medicare Supplement vs. Medicare Advantage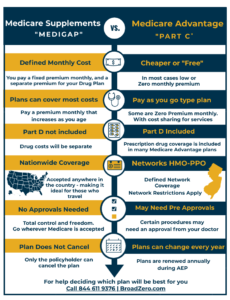 When choosing the best plan, be prepared with questions and look for transparency from your broker.
When choosing between a Medicare Supplement and Medicare Advantage Plan it's important to find a broker that will work for you and is not bound to one carrier.
You may be on Medicare a long time, so it's wise to plan ahead and know your options before making your choice. Be prepared with questions to ask the agent or broker assisting you. Don't be afraid to ask for transparency of prices of carriers in your zip code.
Lastly, going directly to a carrier usually ends up in frustration when an issue arises and plan cost is the same whether placed through a broker or carrier.
Working with a local Medicare Professional will ensure you have someone on your team to assist you with all of your healthcare needs and answer questions for years to come.