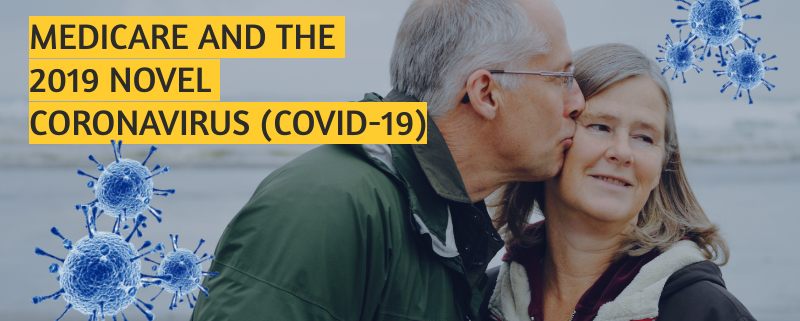 During this period of uncertainty surrounding COVID-19, the Centers for Medicare & Medicaid Services (CMS) have enacted some changes to ease the confusion and costs of those being affected by the virus. In these unprecedented times, we are looking to offer some clarity to Medicare Beneficiaries looking for information on changes and benefits that may affect them.
TESTING
Testing for COVID-19 is covered for all medicare beneficiaries. Medicare will now provide full coverage for COVID-19 testing and any services leading up to testing. This coverage includes both Medicare Advantage and Original Medicare beneficiaries. You will pay no out-of-pocket costs.
TELE-HEALTH
In efforts to protect countless high-risk citizens from exposure to COVID-19, Medicare has temporarily expanded its coverage of tele-health services. This means you may be able to communicate with your doctors or certain other practitioners without necessarily going to the doctor's office in person for a full visit. Your doctor should be able to assist you with more information with how to communicate with them using secure video-chatting platforms. More information available at Medicare.gov
OUT-OF-NETWORK COVERAGE
Medicare Advantage now has a blanket waiver (section 1135) for out-of-network coverage with no cost-sharing or co-pay. This means you may be eligible to visit out-of-network providers if your area is affected by the virus.
PRESCRIPTION REFILLS
According to CMS pharmacies are waiving prescription refill limits. It is a good idea to have at least a 60 or 90 day supply of your prescriptions on hand. Also, check with your pharmacy about prescription deliveries to get your medicine sent right to your home.
ELECTIVE SURGERIES ON HOLD
The Centers for Medicare and Medicaid Services recommends that nonessential, elective surgeries and other medical procedures be postponed during the coronavirus outbreak. CMS also asks that nonessential dental exams and procedures be postponed. Save these procedures for another day.
VACCINE FOR CORONAVIRUS
There is no current vaccine for COVID-19, if one becomes available, it will be covered by all Part D prescription drug plans provided by Medicare.
This is an evolving situation, please check back periodically for updates. If you need some helpful advice or a friendly ear to talk to, we are available by calling 844 611 9376.
https://www.broadzero.com/wp-content/uploads/2020/04/Covid-19-medicare.png
400
800
BroadZero Medicare & Retirement
https://www.broadzero.com/wp-content/uploads/2020/02/logo.png
BroadZero Medicare & Retirement
2020-04-13 18:02:51
2020-06-15 15:19:25
Medicare and the 2019 Novel Coronavirus (COVID-19)