Most people become eligible for Medicare at age 65. If you are around your 65th birthday you probably feel pretty special due to the amount of calls and mail solicitations you are getting. The experience can be daunting and overwhelming. If you received your Medicare card via a disability claim or Retired after age 65 your options are still the same once you receive your Red White and Blue Medicare card.
Before reading further, to enroll in additional coverages keep in mind that you will need to have both Medicare Parts A and B to enroll in secondary coverage or Medicare Advantage Plans. If you are not sure, check your Medicare Card.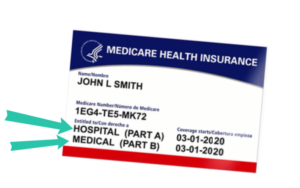 Consider your Medicare card your pass to more coverages, now you are standing at a fork in the road and you have 3 choices.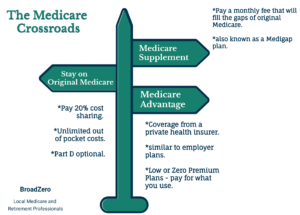 To simplify things, these are your 3 options once you have your Medicare Card. Each can appeal to different people depending on individual circumstances like: incomes, assets, lifestyle, extra benefits, location, chronic conditions and more.
What happens when you do nothing and just Stay on Original Medicare?
Do nothing. In this case you choose to do nothing, you can stay on your original Medicare and use the Red, White and Blue card. This is an 80/20 cost sharing system leaving you the Medicare Beneficiary with 20% cost sharing in addition to Medicare deductibles, and possible penalties with no Maximum out of pocket Protection. Basically you have unlimited out of pocket cost exposure. You would also need to add a Part D drug plan or have some version of Creditable coverage to avoid an ongoing penalty.
Purchase a Medicare Supplement Policy
Also known as a Medigap plan. This is a monthly fee that will fill the gaps of original Medicare. Plans vary as do monthly premium costs. Premiums can vary from carrier to carrier and will vary in price from zip code to zip code for the same plan.
Enroll in Medicare Advantage
These plans are the fastest growing segment of the market. Medicare Advantage offers nothing less than original Medicare. You are electing to get your medicare coverage from a private health insurer. These plans are network based and can offer Dental, Vision and Hearing plus other extra benefits that original Medicare does not offer. Zero Premium Plans are available in most markets. Meaning you only pay for what you use for the Plan.
The surge in Medicare Advantage is confirmation to utilize a choice readily available including extra benefits at no additional cost. More importantly these plans are simple and come in a wide variety to meet your needs.
For more comprehensive information on your best retirement options, Contact us today!
https://www.broadzero.com/wp-content/uploads/2020/09/turning-65-medicare-options-1-1.jpg
600
1200
BroadZero Medicare & Retirement
https://www.broadzero.com/wp-content/uploads/2020/02/logo.png
BroadZero Medicare & Retirement
2020-09-21 01:03:42
2020-09-22 00:41:51
Turning 65 Soon?