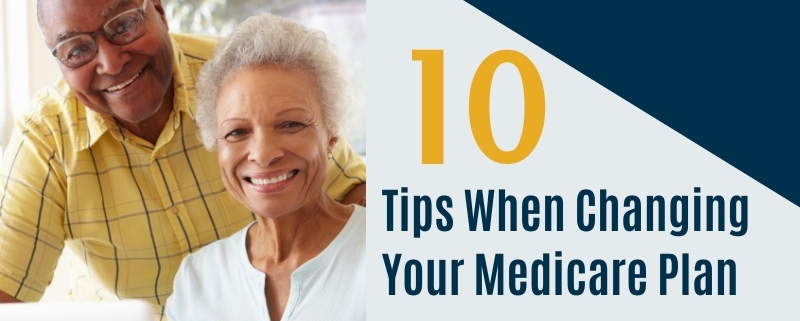 We know how confusing Medicare can be, especially when you are unhappy with your existing plan and looking to make changes for the better. That's why our Medicare experts put together a list that will help you get the most out of your healthcare! Use these 10 tips when you are enrolling or making changes to your Medicare Plan.
1. Keep your things organized.
Have your Medicare card, Doctors, Prescription list and know your existing coverage when working with a broker. It's much easier to do an analysis when all your correct information is accessible.
2. Understand that Medicare Plans are different for every beneficiary.
What may be great for your spouse or neighbor may not be a great option for you. At BroadZero we believe that Best Retirement Options Always Differ.
3. Avoid Captive Selling Agents.
We all want choices, and with Medicare plans it's not any different. A captive agent is working specifically for that company, find a quality local broker who will have many solutions available. This will ensure you get unbiased advice and will allow you to find your best plan option across many different carriers.
4. Know your Enrollment Periods.
You can only make a change during certain enrollment periods during the year. You can make changes during the Annual Election Period (Oct 15 – Dec 7) But there are also special enrollment periods based on a life event or income change.
5. Use a Local Full Service Agency (like BroadZero).
You would like a Broker that does this for a living and can handle all your needs. Whether it's Medigap, Medicare Advantage or Part D drug Plans, work with a professional that will do it all and not turn you over to an 800 number for a drug plan.
6. Use technology to your advantage, and find an Agency that uses it as well.
Technology today provides many ways to engage with Medicare Professionals. It could be text communications, remote signatures, video conferencing, or organization and management system to help you for the years to come. This allows easier access to get answers when you need them.
7. Work with someone Local.
Medicare Plans are Local area specific. A good local broker will have knowledge about plan options in your area. Local agents will also have more insight to State Specific Programs and Plans to help save you money.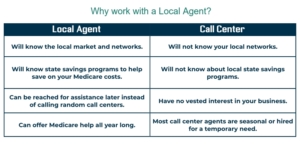 8. Ask about State subsidy plans.
You may qualify for state benefits based on your income which could pay for part of your Part B Premium. Make sure the broker you're working with knows state subsidy plans and is willing to help you qualify. (if applicable)
9. Qualify your Broker and see if they ask suitability questions before a presentation.
Make sure your Broker is AHIP Certified. It is the Industry standard for working with Medicare beneficiaries. Avoid Seasonal Brokers. Many do this on a part time-Seasonal basis. Find someone that is steadily working all year.
10. Avoid National Call Centers.
Covid-19 has changed the dynamics for Medicare and you can expect much more activity stemming from call centers that are nowhere near your home. Remember, Medicare plans are localized and work in conjunction with state programs where you can receive further pricing improvements by participation in state assistance programs. Call center agents are seasonal and in far off states most will not know how state programs with Medicare Plans and a local agent could save you potentially thousands.
Want to work with us?
We will provide a full comprehensive service with a Local Medicare Pro to help review best coverage options specific to you!
https://www.broadzero.com/wp-content/uploads/2020/09/10-tips-when-chaning-your-medicare-plan.jpg
400
800
BroadZero Medicare & Retirement
https://www.broadzero.com/wp-content/uploads/2020/02/logo.png
BroadZero Medicare & Retirement
2020-09-25 00:56:17
2020-09-26 17:06:16
Top 10 Tips When Changing Your Medicare Plan